The quiet giant:
how crafters and DIY-ers made Pinterest bigger than Twitter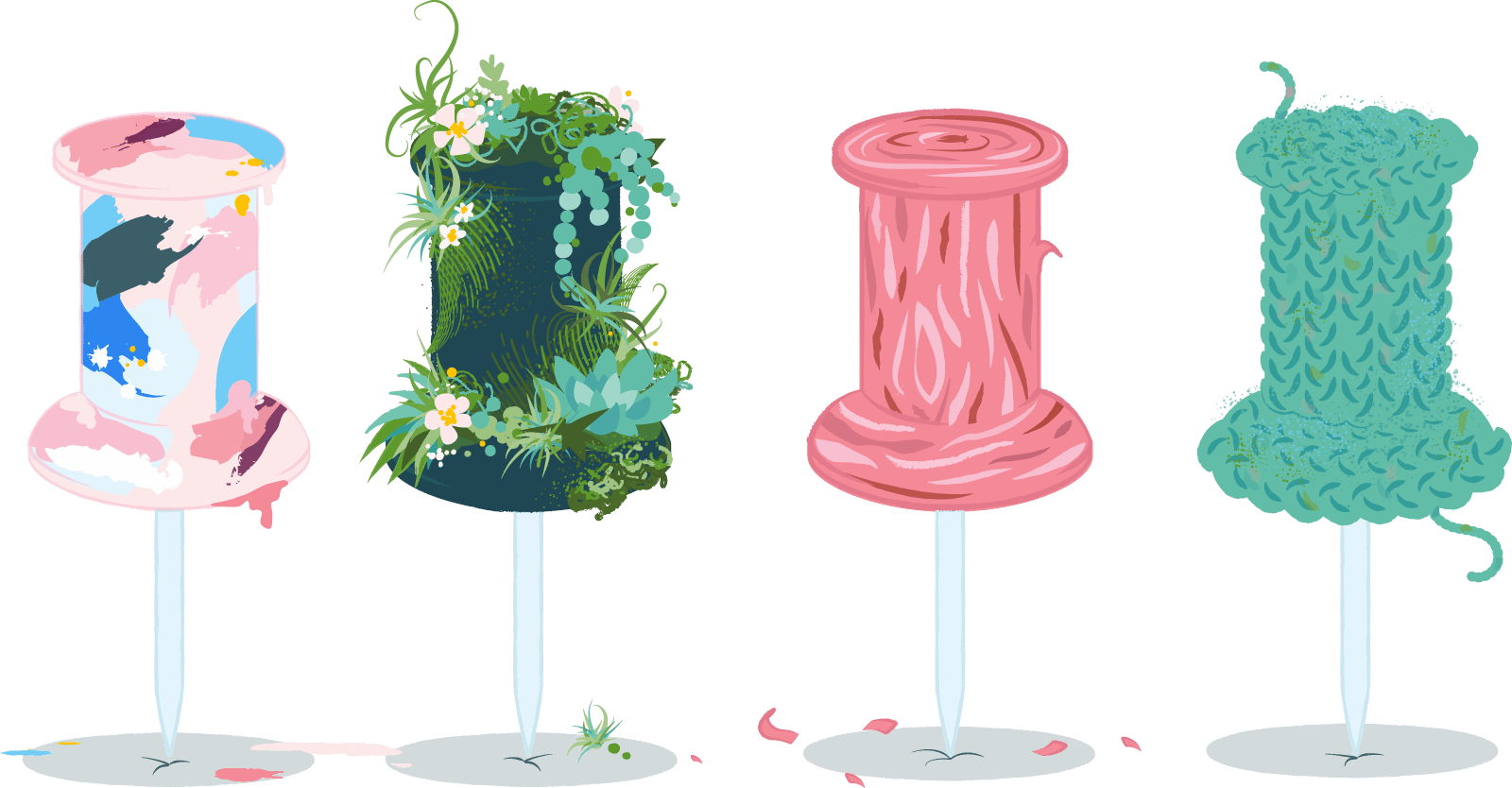 Throughout this series, we've been sharing insights and case studies that highlight what we mean by weirdos, why they matter, and how they can transform your business for the better. In the entry that follows, we took a deep dive into the critical role crafters and DIY enthusiasts played in Pinterest's unprecedented growth rate, and how the company connected with those communities.
But based on news that broke November 30 — a group of Pinterest shareholders are suing the company and its board over "rampant" gender and race discrimination — it's clear that external efforts to create genuine connection are not enough when you do not listen to, respect, and honor your own employees.
For more on how to keep your "weirdos" initiatives from excluding or harming others, see Come one, come all.
...
When social media companies are in the news, there are a few platforms that dominate the discussion: Facebook, Twitter, TikTok, YouTube, and Instagram — and you'd be forgiven for assuming that that's because they're the apps used by the greatest number of people. Meanwhile, though, there's one social media company that has
25% more monthly active users than Twitter1
, grossed over $1 billion in revenue last year, and refers to itself as "the last positive corner of the internet", but that's rarely mentioned in the same breath as the aforementioned platforms:
Pinterest
.
Now, to be sure, Pinterest is a little different than its peers: instead of focusing on user-generated content, it's a curation tool — more of a platform for collecting things that interest you than a soapbox for amplifying your voice and perspective. And as such, the appeal of following someone on Pinterest is all about appreciating their tastes: What art do they love? What recipes appeal to them? How do they decorate their home? What woodworking projects are on their list?
Pinterest's simplicity of purpose — its focus on being a source of inspiration, discovery, and visual research — is also its strength from a business standpoint: it's an incredibly effective advertising platform, as well as a popular tool for researching purchases.
If Pinterest is so popular, then, and earning these kinds of revenues, why doesn't it get the same kind of attention in the tech and business media as Twitter? I have a pet theory that it's because tech and business reporters spend a lot more time on Twitter than they do on Pinterest — after all, Twitter is where breaking news lives — and as such, their personal biases are a factor.
At the risk of over-generalizing, most people use Pinterest to explore personal pursuits, not so much work- or business-related ones. The platform's most popular categories are generally things we do in our leisure time. And this insight is something that helped the company find its footing in the early days.
Pinterest co-founder and CEO Ben Silbermann has said it was his childhood passion for collecting that sparked the idea for Pinterest in the first place: "Collecting tells a lot about who you are," he told one reporter. So when he and his co-founders set out to build a user base for their product after its 2010 launch, they expected the idea of "pinning" to resonate widely. But it didn't take off right away. (Silbermann says that in the early days, he knew all five hundred users personally.) In fact, it wasn't until they found the crafting community that Pinterest found its weirdos.
In 2010, blogging was still in its heyday, and crafters, DIY-ers, and home decor fiends were some of the most avid bloggers on the internet — as well as being communities of people who tended to gather in real life to learn from each other, attend maker fairs, and simply socialize. There were certainly yarn companies, embroidery pattern designers, and stencil makers who were plugged into that community, but it generally wasn't seen as a goldmine for anything beyond selling crafting materials.
Enter Pinterest, whose founders created a
brilliant blogger outreach campaign3
that launched in May 2010 to resounding success. The initiative is
amazingly low-tech in retrospect4
, but it gave Pinterest access to a community of people who loved collecting — and visuals — as much as Silbermann and his co-founder (and Pinterest's chief design and creative officer) Evan Sharp did. Crafters and DIY design aficionados immediately
got
Pinterest at a gut level: its functionality was not dissimilar to the mood boards and inspiration folders they were accustomed to, but it added new layers of simplicity, elegant interface design, and of course, all the additional layers that were possible when they shifted to creating their "pinboards" online, and with friends.
The "Pin it Forward" campaign catapulted Pinterest from a modest 3,000 users (their total user base before the campaign began) to millions of daily active users just one year later. And they did it by leveraging networks of very specific weirdos: the ones who were already combing through design blogs for bathroom tile inspiration, keeping the conversations hopping on the Ravelry boards, or writing 2,000 words on the trials and tribulations of whipping up the perfect meringue.
Notably, Pinterest's founders didn't come from these crafting or DIY communities; they found their weirdos by tuning in to the early users who really got the power of pinning, and listening carefully to what they wanted from the platform. Crafters and DIY-ers shared Silbermann's belief that collecting says something about who you are, and they were keen on sharing ideas and projects with their communities. Not only that, but makers were already highly networked, both online and off, and so once they found Pinterest, the platform's user base grew by leaps and bounds — and then network effects took care of the rest.
As it turns out, there are a whole lot of weirdos out there in search of inspiration, and of self-expression through collecting. People describe the experience of using Pinterest as a quiet, creative escape from the anxiety, urgency, and business of everyday life, which is certainly an experience most of us are craving these days. And of course, Pinterest also allows us to find our weirdos: the pinners who are seriously into contemporary British art, lakeside cottages, handmade ceramics, sewing patterns, children's book art, Japanese menswear, or just straight-up color. For anyone who enjoys collecting visuals, clipping recipes, or finding just the right LEGO cake decorating tutorial, Pinterest is a weirdo treasure trove that just keeps growing.
The company's co-founders may have had to experiment a bit at the outset to find the weirdos who understood what Pinterest made possible, but once the craft community was invited in, they made the place their own, and brought their friends. What's perhaps most remarkable is that despite the vagaries of internet trends and the demands of managing a massive social media platform, a decade later they're still here — and their numbers are still growing.
In a way, perhaps, pinners are Pinterest's tinkerers, building things that matter to them on Pinterest's platform. But it seems to us that Pinterest's real magic lies in the way it enables people to share interests without the pressure to have something to say about them — to quietly sift through a person's collection of paper-based DIY projects, with no status updates or activity stream to make us feel like we ought to be doing something.
What a joyful relief, to "watch somebody love something" and explore their collections. And what a pleasant surprise to discover that there are, in fact, a third of a billion people quietly bonding over shared sources of inspiration — and communing busily but calmly in a corner of the internet where they can focus not on "what's new" or "who's hot," but rather, on the things they're seriously into.
Questions to ask yourself:
Of the people our company serves, who are the "community hubs"? Who is gathering people around common interests?
How might we make it easier for people to gather "quietly" around us — to participate and share without feeling pressure to perform, or generate more content?
What opportunities do we have to facilitate people exploring their own niche interests, and finding inspiration, in ways that align with our business goals?
Footnotes